As a British Nigerian who grew up in London, United Kingdom and has lived here for most of my life, I love to show visiting friends and family that there's so much more to my home city than the London Eye and Buckingham Palace. While these popular tourist sites are worth a stop, there's also an abundance of more unique, vibrant local experiences, which I encourage tourists in London to explore to learn more about the city and enjoy everything it has to offer. From cultural festivals to scenic boat trips, here are some of my favourite lesser-known things to do and places to see to get a sense of the local side of London.
1. Experience live dancing, music, and more at seasonal carnivals and events
One of my best tips for London tourists is to check if there's a festival or carnival taking place during your trip, as I think these events are great ways to experience London from a local lens. There are over 200 annual festivals in London including one of my personal favourites, Notting Hill Carnival, which is the second biggest carnival in the world and Europe's biggest street party.
This annual Caribbean event is one of the top things to do in Notting Hill, has taken place every year on the last weekend in August since the mid-1960s, and celebrates West Indian culture and community, with elaborate floats, sound systems and more, attracting over 2 million visitors each year. For foodies visiting in the summer, I would recommend Taste of London which celebrates London's diverse food culture in Regent's Park. There are arts-focused festivals like the West End LIVE in June, London Jazz Fest in November, The Bloomsbury Festival and London Film Fest which both take place in October, and London Jazz Fest in November.
2. Climb the roof of the O2 arena
If you're not afraid of heights and looking for the ultimate rush, I recommend heading to the O2 Arena in East London for a unique excursion. The arena is a massive music and sports venue, but I think its most unique offering is 'Up at the O2,' which is a harnessed climb on the domed roof of the arena. You'll get a climbing suit, boots, and harness, and ascend across a walkway that reaches 170 above the ground. It'll be chilly and likely windy, but I think the panoramic views of Big Ben, Olympic Park, and Tower Bridge are worth dressing warmly. There are daytime, sunset, and Twilight climbs, all of which last around 90 minutes. There are also 'climb and dine' excursions which include the arena climb followed by a meal at your choice of several restaurants at the O2 Arena, which I think is a romantic option for an adventurous date.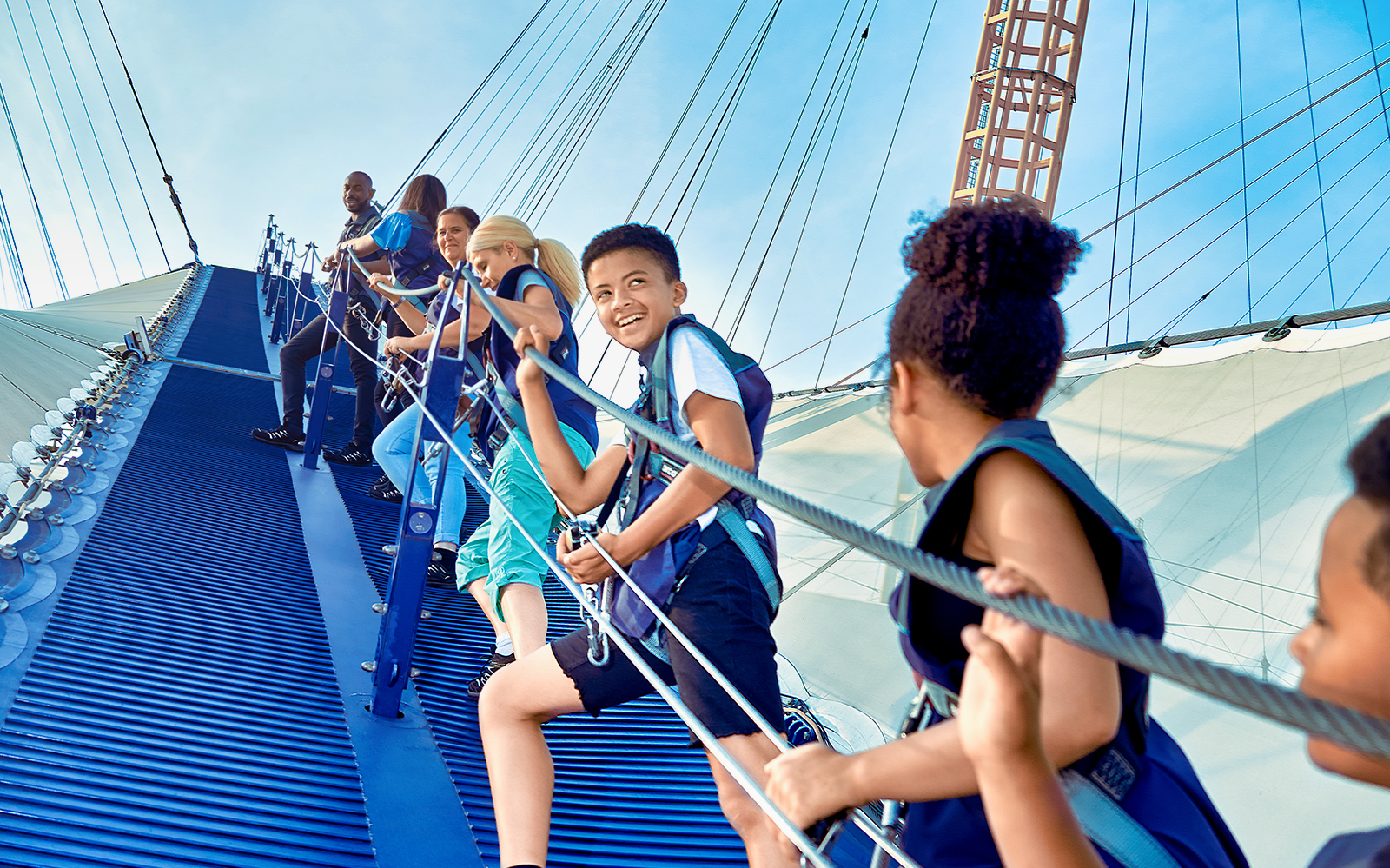 3. Little Venice: Regent's Canal Waterbus Boat Trip to Camden
Not many people know that London also has its series of canals, nicknamed Little Venice after the famous ones in Northern Italy. It's a tranquil canal area in West London, home to waterside cafes and pubs. I also suggest coming early before your boat trip to stroll through the pretty picturesque district of Little Venice. Take a 45-minute boat trip along the Regent's Canals to the electric Camden Market, passing through Maida Hill Tunnel, the grounds of London Zoo and other houseboats.
4. The Big London Bake
This fun baking experience reminds me of a classic British TV show called The Great British Bake Off which is a great show I enjoy watching where passionate contestants compete to be crowned the title of UK's Best Amateur Baker. If you are in the competitive spirit or just like a foodie who wants to try something different, the Big London Bake guides you through a 90-minute experience to remember. They have locations in East and South London and the awesome part of your cake creations is that you get to eat them. It doesn't matter if you're a beginner or a seasoned pro, the UK's only pop-up bake-off is a perfect activity for dates, Hen Do's or just a regular day out. This is one of those fun activities in London for couples if you both enjoy baking.
5. London street art bike tour
One of the first things I do, when I travel to a new city, is book a free walking tour to familiarize myself with the layout and neighborhoods. From time to time, I'll change things up and cycle instead if the city is bike friendly. Luckily for visitors to London, it's relatively easy to cycle around the city as the landscape is mostly flat.
Instead of doing a classic walking tour, bike around London on the Street Art Tour in for an authentic first-hand experience of London. On Alternative London's street art tour, you'll cycle through some of the most creative neighbourhoods in London like Brick Lane, Shoreditch, Hoxton and Hackney as well as some hidden gems. It's a good way to see London from a different perspective and you might spot some world's finest street artists' work including Banksy.
6. Wander through Kew gardens
For travellers visiting with family, you might enjoy open nature spaces which feature a children's garden, the stunning glass Palm House, Temperate House, Kew Palace and the Treetop Walkway 18 meters above ground, giving you a new way to discover the botanical collections, with over 50,000 living plants.
The UNESCO World Heritage site, Kew Gardens, covers over 300 acres and boasts one of the most diverse collections of living plants of any botanic garden in the world. You can visit all year round, except for Christmas, and this attraction is free with a London Pass. The price of a ticket varies depending on whether it is purchased in the winter or summer, however, Children under 4 years old can enter for free.
7. Shop local artisan's products and eat at Black Eats LDN Bohemian Place market
Grab some queue-worthy food at London's biggest Black-owned market created by Black Eats LDN at Hackney's own Bohemian place market. In addition to having a DJ playing smooth rhythms for the soul, this is my favourite London street market for all the good vibes. It showcases everything from London's best Black-owned food to artisan products, sustainable-made clothing and gifts, and many other incredible Black-owned businesses.
It's a Pet and Family Friendly market that will leave you feeling joyful with all the goodies you're about to splurge on. If you're looking to discover more Black-owned restaurants, the founder Jackson Mclarty created the UK's first and only Black-owned restaurant directory featuring over 300 restaurants filtered by location, dietary needs and cuisines.
8. Attend a show at the Shakespeare's Globe
An absolute must-do activity to do in London is to go to the theatre. My all-time favourite production is The Lion King at Lyceum Theatre. If you're looking for a more unique theatre experience that's off the beaten path, I recommend visiting Shakespeare's Globe. It's an open-air theatre that combines tiered seating with standing space for audiences, renowned for its reconstruction of the Globe Theater, where the iconic William Shakespeare wrote his plays. Plan your visit ahead of time by visiting their website to book a show. If you can't make a show but still want to see where Shakespeare wrote his plays, sign up for a guided tour of the theatre, which is offered daily.
9. Book a Jazz Dinner Cruise on the River Thames
You can't visit London and avoid the River Thames. It's England's longest river and the second-longest river in the United Kingdom. The River Thames flows all over London and plays a huge part in regulating its natural environmental conditions as it supports a variety of wildlife. You can see London at night and enjoy a three-course dinner while cruising for 3 hours on a Riverliner boat through the heart of London and get serenaded by a Jazz quintet. Along the River Thames, you'll spot illuminated views of popular landmarks like St Paul's Cathedral, the London Eye and the recently renovated Big Ben. While my friend and I were chatting away, enjoying our raspberry cheesecake, London was truly showing off with these incredible views.
10. Marvel at the Strawberry Hill House And Garden
Skip the popular museums and head to this hidden gem, conveniently located away from the hustle and bustle of the big city, you'll find the stunning and aptly named architectural site that is Strawberry Hill House in the picturesque area of Strawberry Hill, West London. This beautiful white castle was erected in the 18th century. For a fee, they provide several guided engaging tours and are worth the visit for photography enthusiasts.
11. Enjoy Tipple Tea at Rockwell
As much as drinking tea is quite the British thing to do, I'm not a fan of tea. Rockwell has taken the classic British afternoon tea and created a modern twist, designed for cocktail lovers like me. My friends and I had a memorable experience and it's a very Instagrammable restaurant. Alternatively, if you do want a classic afternoon tea experience, I'll recommend Brigit's Bakery & Afternoon Tea Bus Tours which is a great way to enjoy some of the City's best sights in style.
In conclusion, London is a city of endless wonders, and as a Londoner who has called it home for most of my life, I can attest to its vibrant local experiences and a diverse melting pot of culture. While iconic landmarks like the London Eye and Buckingham Palace are cool to see, it is in exploring the lesser-known gems that the true soul of this city comes alive.
From the sensational atmosphere of seasonal carnivals and festivals like Notting Hill Carnival that celebrate the diverse communities, to the sunset views atop the O2 Arena and serene boat trips along the Regent's Canal in Little Venice, there is something for everyone.