Israel is one of the most interesting and unique places I have ever travelled to. Sometimes I find it difficult to put into words just how amazing my experience was here and I am so glad I got to experience this with my girl Tunrayo. From the welcoming and warm local people to the enticing food, it is a destination that should be on everyone's list.
When I initially told people about travelling to Israel, I got a few raised eyebrows of confusion about why I would possibly choose to go there. Out of curiosity, I asked my Instagram friends if they would visit Israel and received a lot of positive responses overall.


Though, there were a few people who raised concerns about safety (I'll address this in my next Israel post) and comments such as the one pictured below which was understandable to an extent given the way the western media portrays Israel. But I can assure you that it was nothing like what you may see on tv and we felt completely safe throughout our short time there.
When I told my parents I was going, they were really excited for me as they had been a couple of years ago with a Christian tour group for their wedding anniversary and loved their experience. It was interesting to hear many people's views. For me personally, regardless of the stories I hear from others traveller's experiences, I try to keep an open mind and also share my experience in the hopes that someone will be inspired to travel to that country too.
I wanted to take everyone on a journey with me and shared some of my travel highlights on Instagram (check it out). If you have ever been interested in visiting Israel, here are my 5 reasons why should visit Israel.
1. Jerusalem, the holy city
Jerusalem is considered to be the holiest city in the world because of its religious importance to Christians, Muslims and Jews. The old city of Jerusalem really does feel like a melting pot of religions with many visitors and locals coming from various backgrounds. This was a real and fascinating eye-opener for me and loved witnessing this. It's home to the Church of the Holy Sepulchre, important for Christians, the western wall, important for Jews and the Al-Aqsa Mosque which is important for Muslims around the world.
Image Source: Unsplash
Even if you do not consider yourself to be a religious person, Jerusalem is a wonderful city to explore its history and the modern culture of today. Wander the pebbled streets and narrow alleyways with an array of market stalls to shop at. This city really does feel like you are going back in time to historical events.
As a Christian, visiting Jerusalem was an emotional and surreal moment for me. Being able to walk where Jesus walked put things in perspective. It was like connecting dots from the bible to real life which was a real wow moment for me. Home to the life, death and resurrection of Jesus Christ. The atmosphere in Jerusalem was just amazing in general, seeing so many people from different ethnicities and denominations praying, seeking, and following the life and teachings of Jesus Christ in their own way.


The Church of the Holy Sepulchre is said to be built on the traditional site of Jesus' Crucifixion and burial. Being present in the holy church of sepulchre was a reminder of God's love for me. If you ever get a chance to walk into the Church of the Holy Sepulchre, just know that you're walking into the air space where the sin of humanity was paid for on the cross and death was defeated at the resurrection of Jesus.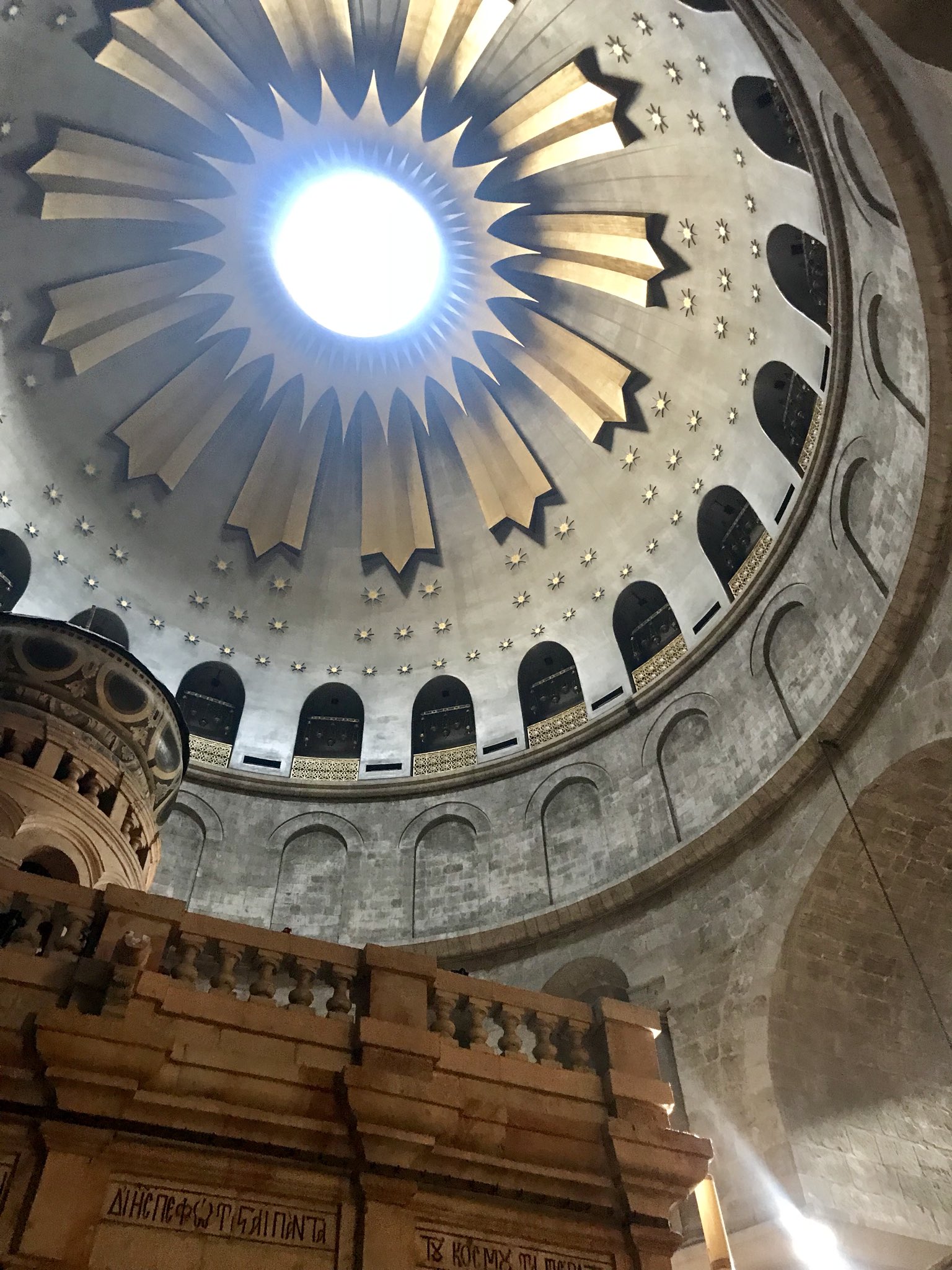 2. It's home to the lowest point of Earth
The dead sea is the lowest point on earth and contains such high concentrations of salt that you float in it. We had such an enjoyable time, floating away and massaging ourselves with the vitamin-packed dead sea mud. I will warn you to try not to get the salty water in your eye as this stings very badly. We saw many people using empty bottles and bags to collect dead sea mud to take home and decided to do the same. This stuff is gold! There are bountiful skin and health benefits that we couldn't justify leaving Israel without some. The dead sea was a unique and cool experience. Definitely, a must-do activity before you leave Israel.
Image Source: Unsplash
3. The Food
One word, amazing! If you're into tasting a variety of delicious street food, then Israel is the place to be. There is something for everyone including meat lovers and Vegans. Israel has the best freshly made hummus. I don't even like hummus but wow it was soo good out here. One meal I loved having in Israel was Shakshuka with chicken shawarma because it looked like a simple dish yet it was bursting with flavour. I loved it so much that I decided to bring a small taste of Israel home and recreate my own recipe.
For my vegan readers, you will be pleased to know that Israel is one of the most vegan-friendly destinations in the world with Tel Aviv considered a vegan hub. Food is a really important part of the Israeli culture as many Jews will feast with loved ones for Shabbat dinner.


Image Source: Unsplash
The markets in Israel was one of my favourite places to be in. The people, the music, the aroma of freshly cooked food was amazing. Whether you like kosher meals or have a dietary need like gluten-free or sugar-free foods, Israel is the melting pot for diversity in cuisine. Visit Mahane Yehuda market, Jerusalem and HaCarmel Market, Tel Aviv to see for yourself.
4. The diverse landscape
When I talk to people about Israel, I tell them there is really something for everyone to do. There are lovely beaches with stunning sunsets, adventurous hikes such as the red canyon or the Negev Desert and the dead sea where you can float in the water without the fear of drowning. You can immerse yourself into history and discover ancient Israel with plenty of archaeological sites dating back to 1.55 and 1.2 million years BP. There is a lot of natural beauty within Israel with green landscapes, waterfalls, hot springs such as nature reserve, Ein Gedi.
Image Source: Unsplash
Image Source: Unsplash
Image Source: Unsplash
Image Source: Unsplash
5. The people of Israel
I met so many warm and friendly locals. Every day, Israelis genuinely brought me joy! One of the highlights of my trip and a memory that will stay with me forever was when Dov, a Jewish local welcomed us into his own home in Jerusalem to have Shabbat dinner with his family. It was a really very delightful and informative experience. I met Dov from the show around app which is a great way to find locals to show you around and give you a tour. Along with Dov, we met our new Israeli friend, Avital, through the app. It was interesting to listen to her stories about her life in Israel from a millennial's perspective. We had such a fun time with her, showing us around her city, Tel Aviv and Jaffa, the old port city.
Another fond memory I have of my time in Israel was when we were doing some souvenir shopping in Jerusalem and walked into Joshua's Jewellery shop. Joshua began telling us some stories from the bible and showed us the widows mite (Mark 12:41-44), two Roman coins that were preserved and passed down from generations. Before we left his shop, Joshua began to pray for us and bought freshly squeezed fruit juice from a nearby stall as it was very hot on this day. It was a random but heartfelt and genuine gesture that left me beaming with joy.
Has Israel been on your radar to visit? Comment below, pin and share 🙂
---
Looking for your next travel destination? Need help with holiday planning or would like a detailed personal itinerary?
As a travel consultant, I want to help you guys book the best affordable flights, hotels and activities to meet your needs and ease off that pressure of planning a holiday. Fill in a quick form on diywithjoy.com/shop/services/ which takes under 2 minutes. You can also send an email to diywithjoy@outlook@com.