Daaam Amsterdam was a vibe! Amsterdam, Netherlands exceeded my expectations of what it had to offer. It's more than just smoking marijuana that comes to mind when some people think of Amsterdam. This vibrant city is known for its picturesque canals, world-renowned museums, and bustling nightlife. The unexpectedly rich history of the city surprised me and the city very much felt like it had a young and chilled vibe. The locals are friendly and it's quite a budget-friendly city for the conscious spender.
It's great for a weekend getaway to go solo or with a group of friends. I went straight from work to the airport on a Friday and caught up with my sister and friends who got an early flight in the morning. I haven't done a girl's trip in a long while, but I had a good time and enjoyed exploring canal city. I'm sure the girls would agree too! The canal ring area of Amsterdam is UNESCO listed because the three canals form a horseshoe shape around the old centre. Interesting right?

Travel Smart Tip: Book a weekend flight from Friday and catch a return flight home in the evening/night to maximize your weekend getaway without having to take any holidays off work.
In this blog post, I'll share where we stayed, some tips on how to get around, things we did during our weekend getaway and food recommendations.
Where We Stayed In Amsterdam
We had a pleasant stay at Hotel Casa Amsterdam, which had a welcoming feel, and quirky but modern vibe. The service and hospitality were great. The location was really good, with only a few minutes walk to the metro and tram. I loved the communal spaces' design; the hotel also features a bar, a rooftop terrace and an in-house restaurant. The rooms were simple and spacious but were equipped with free Wi-Fi, a flat-screen TV, a refrigerator and an en-suite bathroom.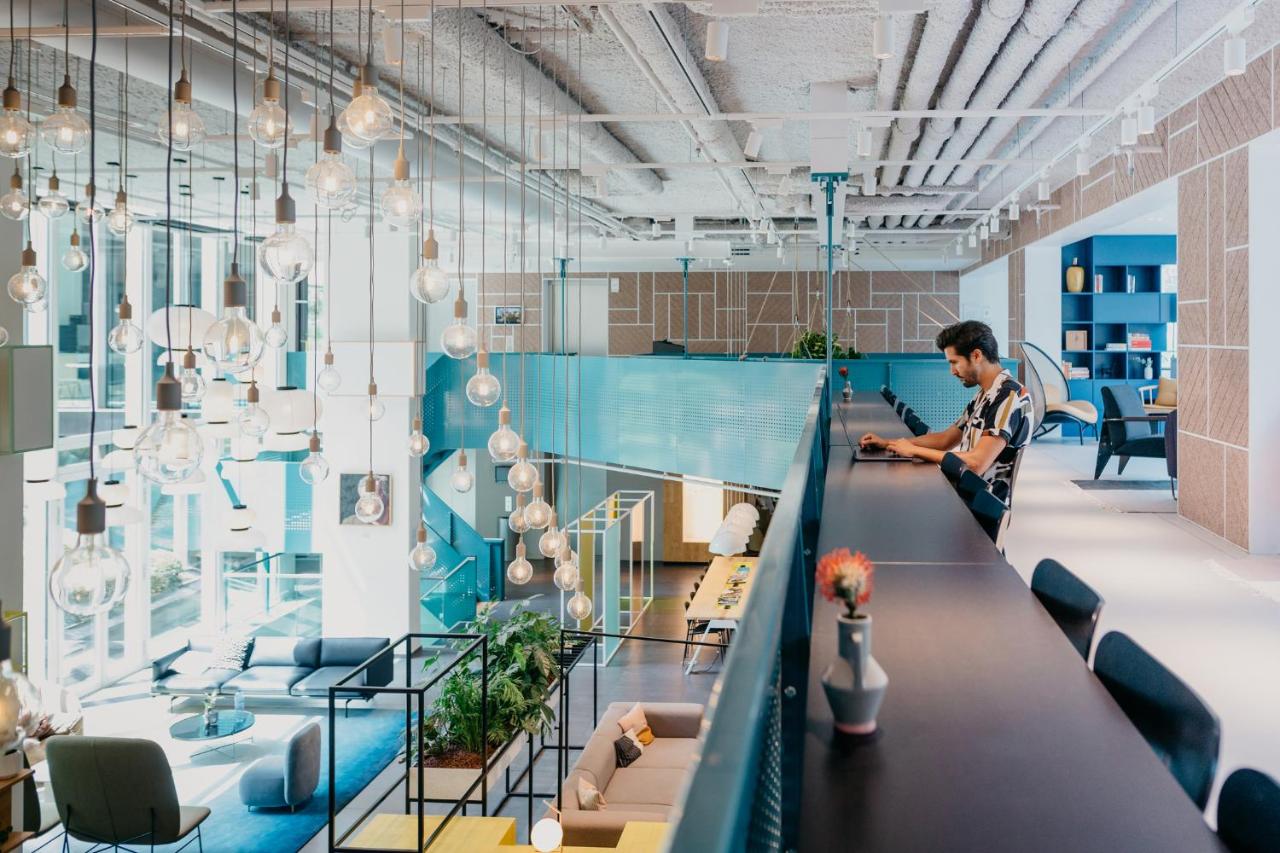 How To Get Around Amsterdam
The city has an extensive public transportation system that includes buses and trams. If you're planning on using the trams or buses a lot, it's worth investing in a public transport pass such as a GVB pass as it will be cost-effective for you. This gives you unlimited travel on all GVB trams, buses and the metro for varying periods which range from one day (€7.50) up to seven days (€34.50). Another option is purchasing an Amsterdam Travel Ticket which includes train travel to and from Schipol Airport as well as unlimited public transport within the city (1 day €16, 2-day €21, 3-day €26).
Inter-Sprint and sprinter are two rail trains that you can't use your GVB passes on. Try not to get on one with the wrong pass or you may find yourself in trouble when getting out of the station. If this happens to you just pretend you had no idea and speak to a transport officer to tap you out and reset your pass.
Another cost-effective way of getting around is by bike. Amsterdam is one of the most bike-friendly cities in the world. Check out this guide to renting a bike.
Diywithjoy Safety Tip: As a pedestrian walking around and crossing the streets of Amsterdam, watch out for bikes. There are road markings, bike paths, and sidewalks everywhere but the sidewalks and bike paths do appear similar on some roads. I witnessed a person riding a bike at a fast speed colliding with my sister as she stepped forward to cross the road at the traffic light! It was quite scary to witness but luckily no one was seriously injured.
Should I Get the Amsterdam Go City Explorer Pass?
If you're planning a trip to Amsterdam and wondering if the Go City Explorer Pass is worth the investment, you're not alone. The Amsterdam Go City Explorer Pass is a sightseeing pass that grants access to multiple popular tourist attractions in Amsterdam. The pass comes in two options: a 2-attraction pass and a 5-attraction pass. With the pass, you can visit top attractions such as the Rijksmuseum, Van Gogh Museum, and Heineken Experience. The pass also includes a hop-on-hop-off bus tour and a canal cruise, which can be great for getting around the city and seeing the sights from a different perspective.
One of the main benefits of the Amsterdam Go City Explorer Pass is that it can save you money. The pass offers discounted rates on the included attractions, which can add up to significant savings if you plan to visit multiple attractions during your trip. The pass also eliminates the need to purchase tickets individually for each attraction, saving you time and hassle. With the included hop-on-hop-off bus tour and canal cruise, the pass can also help you get around the city and see the sights more efficiently.
If you only plan to visit one or two of the included attractions, it may be cheaper to purchase tickets individually rather than buying the pass. Ultimately, whether or not to get the Amsterdam Go City Explorer Pass comes down to your individual travel style and itinerary. If you're interested in visiting multiple popular attractions and want to save money on admission fees, the pass can be a great choice.
Where To Eat In Amsterdam
When it comes to food, Amsterdam has something for every palate. At street vendors and cafes, you can find traditional Dutch dishes like stroopwafels (waffles with caramel) and bitterballen (deep-fried meatballs). But also, Amsterdam offers a wide variety of international cuisine, from Italian to Surinamese.
Stroopwafels are yummy! If you're a sweet tooth like me then this is a must-try. This bakery is amazing because they make them fresh and offer a variety of toppings. Very Instagrammable too!
I loved the food in this Argentinian restaurant, the staff were extremely friendly and the customer service was great.
I've heard soo many people rave about this place when it comes to pancakes. Unfortunately, I didn't get to make my way here during my weekend in Amsterdam but if you give it a try, let me know what you think.
We discovered this place by accident. This eatery serves good Italian food at low prices. They have a €5 menu which is great for travellers on a budget.
Things To Do And See In Amsterdam
This city is packed with things to see and do. Whether you're a history buff, an art lover, or just looking for a fun and unique vacation experience, Amsterdam has something to offer. From taking a boat tour of the canals to visiting famous museums and indulging in traditional Dutch cuisine, there's no shortage of activities to fill your itinerary.
1. Try A Free Walking Tour
Free Dam Tours was one of the best tours I've ever been on! It was a small group tour and was a great way to learn interesting facts and history about Amsterdam.
Alternatively, you can experience a taste of Dutch culture on a guided bike tour while enjoying highlights of the rich history of the iconic canal-lined city.
2. Do A Tour Of Anne Franks House
Anne Franks House This is such an important part of history and if you have read the book you would want to make your way here. If you want to get tickets, I highly suggest that you book as soon as possible. Tickets sell fast like hot pancakes! From weeks to even months in advance, people book their tickets. Cost = €10
3. See The City On A Canal Cruise
A Canal cruise was a lovely way to see the city, enjoy the views and learn a bit of history. Cost = £12
Here are some alternative canal cruise tours I would recommend:
There are many museums in Amsterdam but we opted to visit this one which tells you the story and history of tulips. Tulips are pretty flowers and happen to be the national flowers of the Netherlands. Cost = €5 (Students), €5 (Adults), €10 (Family). Ps. we got a family ticket which worked out to be cheaper for us than a student ticket.
In addition, stop by the Keukenhof gardens for beautiful picturesque views of tulips. You find over 7 million flowers, including 800 different kinds of tulips. The gardens are open 60 days a year (2019 – 21 March to 19 May 2019) and make a pleasant outdoor experience in the spring to summer seasons
5. See Panoramic Views Of Amsterdam At The A'dam Lookout
The A'dam Lookout is a great chill-out spot with lots of things to do. This was recommended to us by two lovely locals we met at McDonald's (You can meet locals anywhere haha). A'dam Lookout has an observation deck with a 360 panoramic view of Amsterdam.
The views from the top reminded me of the Shard in London This place also has Europe's highest swing which offers you the chance to be adventurous and swings at the edge of the tower. While enjoying the view, you can have a drink or bite to eat at Panorama Restaurant & Rooftop Bar. Besides, if you're quite a photogenic person, you'll have the chance to pose in front of the green screen and capture some digital memories. Cost = €13.50 (Adult)
Hope you have enjoyed reading my blog post. I'm looking forward to my next trip to Amsterdam in the future.
Conclusion
To make the most of your time in Amsterdam, it's a good idea to plan ahead and book tickets for popular attractions in advance. Also, Keep in mind that many smaller museums are closed on Mondays and shops may not open until noon, so plan accordingly. This city is best explored on foot or bike so I definitely recommend wearing comfortable shoes.
In conclusion, Amsterdam is a city that has something to offer everyone, from art lovers to travellers interested in history. With its picturesque canals, world-renowned museums, and delicious food, Amsterdam is a destination that should be on every traveller's bucket list and it's certainly one of my favourite cities in Europe.
Have you been to Amsterdam before? What was your favourite part of the trip?