Disclaimer – This post contains affiliate links. That means if you buy through my link, I may receive compensation at no extra cost to you.
Travelling is one of the most enriching experiences you can have in your life. It offers a chance for self-discovery, seeing new places, meeting new people, and creating memories that will last a lifetime. But with so many options, from choosing a destination to booking accommodations, it can be overwhelming to plan a trip.
As a travel expert and frequent traveller who has travelled regularly to over thirty-five countries and has lived in four countries, I often get asked what the best travel resources are out there. Whether you're planning a road trip, a beach vacation, or a European tour, it's essential to be well-prepared for your trip. In this comprehensive guide, I'll go over all the best travel resources that you can use to book and plan your trip, from start to finish.
The Best Platforms To Plan & Research Destinations
The first step in planning a trip is researching your destination. There are many great resources out there to help you learn about different destinations, from travel blogs to guidebooks and more. Here are a few of the best resources for researching destinations:
1. Lonely Planet: Lonely Planet is one of the most well-known and respected travel guidebook companies out there. They offer a wide range of guidebooks on destinations all around the world, as well as a website filled with useful information, travel tips, and more.
2. TripAdvisor: TripAdvisor is one of the largest travel review websites out there. You can find reviews and opinions on just about any destination you're considering, as well as useful information on hotels, restaurants, and more. There are plenty of active travel forums for trip guidance and tips.
3. Travel blogs: There are countless travel blogs out there, written by travellers just like you. They can be a great source of information and inspiration, and can also help you get a sense of what it's really like to travel to a particular destination. Some of my personal favourite travel blogs are The ufuoma, Travel with a pen ,Being Christina Jane and of course mine.
4. Social Media: With social media platforms like Instagram, Facebook, TikTok and Twitter, we're now more connected online on a global level. I love using Instagram and TikTok to discover new places and get tips from travellers and locals. Both social media platforms work similarly to Google and you can search for things to do in a city using their search function or through hashtags. I've found unique tours, local photographers, hairdressers and much more through Instagram. I use Facebook to join groups. There are hundreds of community travel groups or groups specifically for a destination which is a great way to connect with people, ask questions, advice and gain loads more tips. I love Twitter connecting with locals and travellers who are usually happy to share more information about a destination with you. It's also great for finding out more current news about a destination, especially when there is a reactive situation taking place. I've used it to help me find local news on up-to-date COVID-19 measures during the pandemic in Tokyo and much more!
5. Foreign travel advice: I use this website to search for a country or territory to find the latest information on entry requirements for UK residents, coronavirus, safety and security, entry requirements and travel warnings. This website is run by GOV.UK and you can sign up for email updates for a specific country. This came at a clutch during the initial pandemic when travel was more unpredictable and some countries were changing their entry requirements every other week.
The Best Websites To Find Flights Tickets:
Once you've decided on your destination, the next step is to book your flights. There are many websites, travel consultancy companies and travel agencies that can help you find the best flight deals, so it's worth doing some research to find the best option for you. Here are a few of the best resources for booking flights:
6. Skyscanner: Skyscanner is my personal favourite flight search website/travel aggregator that can help you find the best deals on flights. They also have a handy "Everywhere" feature that can help you find the cheapest flights to any destination, regardless of where you're starting from.
7. Kayak: Kayak is a popular flight search website that can help you compare prices from a wide range of airlines and travel agencies. You can also use their "Explore" feature to find cheap flights to destinations worldwide.
8. Airlines' websites: Don't forget to check the websites of the airlines themselves! They often offer great deals and promotions that you won't find anywhere else. Once I find a good flight deal on travel fare aggregators, I'll usually book on the airline website as they offer more flexibility than 3rd parties.
9. Google Flights: Google Flights is a comprehensive flight search engine that allows you to search for flights based on your preferred dates, destination, and budget. One of the standout features of Google Flights is the price tracking feature, which allows you to track the price of a flight and receive notifications when the price changes. This can be incredibly useful if you're looking to book a flight but want to wait for a better deal.
10. Hopper: Hopper is a popular travel website and app that specialises in helping users find the best deals on flights. With Hopper, you can search for flights based on your preferred dates and destination, and the app will provide you with a colour-coded calendar that displays the cheapest flights for your chosen dates. Hopper also uses historical data and AI technology to predict future flight prices, so you can determine the best time to book your flight. Additionally, Hopper offers a "Price Watch" feature, which allows you to track the price of a flight and receive notifications when the price changes, making it a great option for those who are looking to book a flight but want to wait for a better deal. Use my code: joyceo9vy to get £20 off your next hotel booking.
11. Expedia: This travel technology company offers a variety of websites, all designed to help you with your travel needs, from car rentals to hotel bookings. Expedia's websites, including CarRentals.com, Expedia.com, HomeAway, Hotels.com, Hotwire.com, Orbitz, Travelocity, Trivago, Venere.com, and VRBO, are all geared towards providing you with the best travel experience possible. With Expedia and its websites, you can easily compare prices from multiple airlines and travel agencies to find the best deal on your flight as they use travel fare aggregators and travel metasearch engines. Additionally, Expedia offers a "Flight Price Guarantee," which ensures that you get the best price on your flight.
12. Kiwi: Kiwi is best for flight hackers who are looking to DIY your trip. It's a comprehensive flight search engine that allows you to find the best deals on flights. You'll want to try their NOMAD and multi-city feature which helps you find the cheapest price if you want to visit multiple cities or countries. It's my go-to website I like to use when I want to look for flights with multiple stopovers and want to do long layovers.
13. Momondo: Momondo offers a comprehensive flight search engine, helping users find the best deals on flights. Momondo offers a range of flight options, including budget airlines, making it a great option for those who are looking for cheap flights. Additionally, Momondo provides a "Price Calendar".
14. Wakanow: This is the number one leading African travel company where you can find the best for finding flight deals within Africa and beyond. You can pay in local African currencies such as Naira, Ghana Cedis and Gambian Dalasi as well as Great British Pounds and Dollars. Wakanow also has the 'pay small small' feature where you can put down a 25% down payment on flights and pay in instalments, allowing you to spread the rest of your costs.
Travel Smart Tip: Use flight aggregator websites such as Skyscanner, Kayak, Momondo, Google Flights and Kiwi. Don't buy the first ticket you see, always compare prices on these websites which could save you costs! I find that the features on the Kiwi and Kayak websites are great for booking a multi-city trip.
The Best Websites To Find Cheap Flight Deals & Error Flights Tickets
15. Jack's Flight Club: Jack's Flight Club is the UK's leading cheap-flight finding membership service. We notify our members about the most ridiculous flight deals to destinations all over the world. With an average saving of over £400 per ticket, you can be sure that our membership is worth every penny.
16. Going (formally known as Scott's cheap flights): provide you with daily deals on flights leaving from airports across the USA. You can select your preferred US departure airport and sign up for their premium package which will give you access to their error fairs and be the first to know when flight deals drop.
17. Secret Flying: This is the best website to find cheap flight deals and error flights from anywhere in the world. They post deals from Europe, the US, Canada, Oceania, South America, Africa, Asia and more regions. I personally recommend this website because it caters to a global audience, enabling travellers to find inexpensive flight deals between countries. In fact, Secret Flying inspired me to plan a 2-in-1 trip, where I booked a 10-day vacation to Italy but cut it short and spent 4 days in Mykonos, Greece after spotting a flight ticket for less than £20.
The Best Websites to Find Accommodation
Once you've booked your flights, the next step is to find a place to stay. There are many great options out there, from hotels and resorts to vacation rentals and more. Here are a few of the best resources for finding accommodation:
22. Booking.com: is one of the largest online travel agencies, and they offer a wide range of accommodation options in destinations all around the world. You can also read reviews from previous guests to help you make an informed decision. Booking.com is my favourite because of the user-friendly interphase, and the genius loyalty programme where you can build up your travel rewards and receive discounts, free breakfast and free room upgrades on selected hotels.
23. Airbnb: Airbnb is a popular platform that allows you to rent out rooms or entire homes from local residents in destinations all around the world. This can be a great way to get a more authentic experience and save money on accommodation costs.
24. Hotels.com: One of the standout features of Hotels.com is its rewards program known as One Key. This program enables you to earn and utilize points called OneKeyCash across Hotels.com as well as its affiliated websites, including Expedia and Vrbo.
25. Agoda: Agoda is another Asia-based OTA (online travel agency) that offers a wide range of hotels and various lodging types, including hostels, private houses, and even extended stays globally but it is specifically great for finding those amazing and unique stays in Asia. I've used it many times when travelling to Thailand and other Southeast Asian countries as I found that it offered even better rates than other popular OTA's. Agoda also offers the AgodaVIP program, an exclusive membership tier that provides users with additional discounts and perks as they accumulate bookings and loyalty to the platform.
26. Expedia: This is the one-stop travel site to book everything from flights, hotels car rentals and more. Expedia is the parent group Bundle your stay with a car rental or flight and you can save more. Expedia offers a free program called Expedia Rewards designed for frequent travellers who relish saving money on their journeys. Once you start collecting points, you unlock exclusive perks and get instant access to savings worth 10% or more on select hotels. While Expedia is renowned for its exceptional deals, one of its standout features is its remarkable search filters. These filters are instrumental in streamlining your search process and finding the right accommodation catered to your needs.
27. Hostelworld: This is a global hostel-focused online booking platform, that is ideal for budget travellers who want to travel on the low but also meet new people.
28. Skyscanner Hotel search: While Skyscanner is known as a flight search engine, I recently discovered that you can search for hotels. Although it's convenient to view pricing options for each hotel, there isn't an extensive array of filtering options available. The map feature is helpful if you prefer locating a hotel based on its geographical location. I do like using it to search for hotels to see if I can find it at a more affordable rate.
29. Google Hotel Search: Did you know that you can search for hotels directly on Google? Similar to Skyscanner Hotels and Tripadvisor, Google functions as a search engine for hotel listings. When using Google for hotel searches, you won't actually make reservations through the platform; it merely serves as a tool to help you find the best hotel prices.
American Express offers more than just credit cards; they operate Amex Travel, a travel portal similar to online travel agencies (OTAs). It's accessible even if you don't hold an American Express credit card, although having one provides added benefits.
Amex Travel's pricing typically aligns with other OTAs. However, if you have the Platinum Card® from American Express or The Business Platinum Card® from American Express, you can earn 5x points for prepaid hotel bookings made through Amex Travel. Additionally, booking fees for flights through Amex Travel are waived if you hold one of these cards. There are lots of perks for card members when booking hotels, like room upgrades, guaranteed 4 pm check-out, complimentary Wi-Fi and more.
One drawback when using Amex Travel is the necessity to create an account and log in to view the final pricing. The displayed prices do not include taxes and fees, which can be somewhat misleading if you're not logged in.
Travel Smart Tip: Booking directly through a hotel's own website can often be the best choice for various reasons, whether you're considering Hilton, Marriott, or any other hotel chain. If you happen to be a member of a hotel's loyalty program and are aiming to either accrue or uphold elite status, your preference would likely lean towards making a direct reservation. When you opt for direct booking, you may be able to access reduced rates exclusively on the hotel's website.
The Best Websites to Book Activities and Tours
One of the best parts of travelling is getting to experience the incredible activities and sights that your destination has to offer. There are many resources out there to help you plan and book your activities, so you can make the most of your trip. Here are a few of the best resources for planning activities that I personally use:
31. Viator: is a well-known website that offers a wide variety of over 300,000 tours and activities around the world. They offer everything from sustainable travel options, and city tours to adventure activities, and they have a large selection of tours to choose from.
32. Getyourguide: is another popular website that offers over 60,000 tours and activities in many destinations around the world. They offer a wide range of tours, including walking tours, food tours, and outdoor activities. If I'm not scrolling through Viator, I'm definitely also looking at GetYourGuide as they also offer unusual and one-of-a-kind local tours exclusive to this platform.
33. Tripadvisor: This is the number 1 travel review website that also offers tours and activities. They have a large selection of tours to choose from, and they also provide user reviews to help you make an informed decision.
34. Airbnb Experiences: This is a platform that allows locals to offer unique experiences to travellers. They offer a range of experiences, from cooking classes to adventure activities, and they're a great way to connect with locals and get authentic experiences. I've found some of the most unique and fun tours on this platform like the time I did a fun baking class with a nutritionist in Japan.
35. Guruwalk: offers 'free' walking tours organised by local guides around the world. It's a great way to experience a new city through a local lens. I usually like doing a walking tour in the first few days of a new destination as it helps me familiarise myself with my surroundings. Plus I can ask the local guide for more info on the best local food spots and hidden gems.
36. Showaround: Showaround is an app that facilitates connections between travellers and locals who are enthusiastic about showcasing the best of their home cities. If you're seeking a genuine and off-the-beaten-path experience, this app is a fantastic choice. During my solo trip to the Philippines, one of the standout moments was spending a day with friendly Filipino locals. My goal was to explore Cebu, visit historical sites, and savour the local cuisine. I arranged an affordable, customised tour through Showaround, and what I truly appreciate is that it allows you to directly support the local economy. Although we had to alter our plans due to bad weather, we still had an enjoyable time. Experiencing Cebu City through the perspective of Cebuanos was an amazing experience and they taught me so much about their culture. It's incredible how you can connect with people from diverse backgrounds and cultures, and they warmly embrace you.
Some locals on Showaround even offer free tours, either to practice their English or simply to engage with travellers from different cultures. My Showaround adventures have taken me to Ghana, Turkey, Sweden, and Israel. In Israel, I had a unique tour exploring the sacred city of Jerusalem and was graciously invited to partake in a traditional Shabbat dinner with my tour guide's family.
37. Klook: Klook is a booking platform on which travellers can book hotels, cars, tours and activities, tickets to attractions, and shows at great prices. Thanks to the convenient app, travellers can access the most popular attractions and hidden gems at their fingertips. I find Klook to be great if you're looking for amazing unique tours in Asia.
38. EatWith: EatWith offers a platform that links guests with welcoming and carefully chosen hosts, providing distinctive and immersive experiences right from the comfort of their homes. Whether you're interested in participating in a live baking class for delicious French "Madeleines" with a skilled pâtissier broadcasting from Paris, a lively mixology workshop guided by an expert mixologist streaming from London, or an authentic Italian pasta-making session hosted by one of our delightful locals in Rome, EatWith experiences are an ideal way to partake in enjoyable and one-of-a-kind activities.
39. WeGoTrip: WeGoTrip is an online platform that facilitates the booking of audio excursions and self-guided tours in over 35 countries, primarily available in English. Travellers have the opportunity to engage with audio excursions crafted by seasoned tour guides and local experts.
40. Go City: Multi-attraction passes for the top tourist destinations worldwide at up to 50% off the initial cost of entry into attractions and some tours.
The Best Websites To Book Transport and Car rentals
Rail, Train & Bus Travel
41. Trainline: Trainline Europe's leading train and coach app and website. Collaborating with more than 210 rail and coach companies, Trainline facilitates travel for its customers to a multitude of destinations spanning 45 countries. The primary objective is to seamlessly integrate all rail, coach, and additional travel services into a user-friendly experience, enabling customers to access the most competitive prices and real-time travel insights while on the move. I personally used this for many years to book train tickets across the UK and when I'm travelling within Europe to cities like Venice and Verona.
42. Rome2Rio: is a comprehensive travel planning platform that offers users the ability to search, compare, and book various transportation options for their journeys. This platform provides information on flights, trains, buses, ferries, and driving routes, making it easier for travellers to plan their trips efficiently and find the best routes and prices for their specific needs. Rome2Rio is a valuable tool for those looking to explore various travel options and make informed decisions about their travel itineraries. I also love it for mapping out road trips when travelling.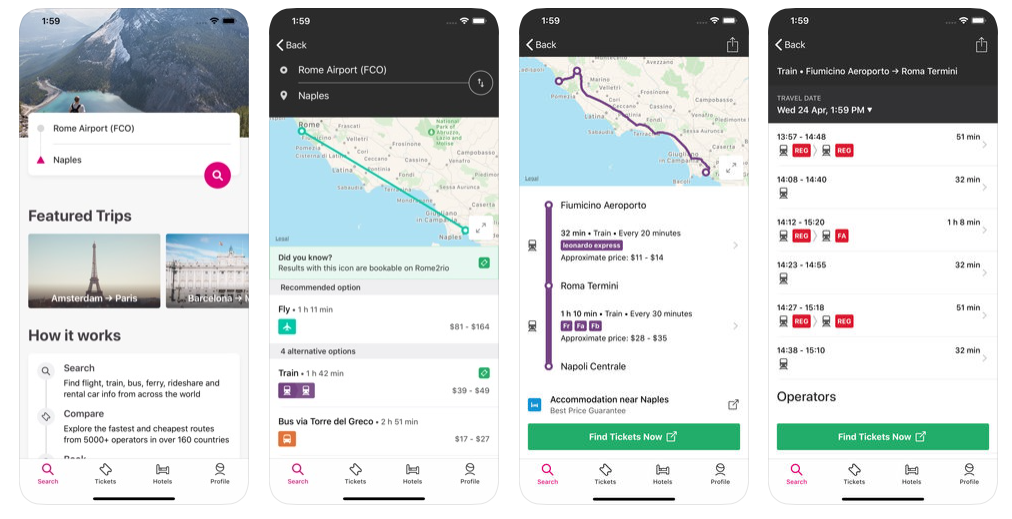 43.Flixbus US: FlixBus is a prominent long-distance bus transportation company that operates across Europe and the United States. It offers an extensive network of routes, connecting numerous cities and destinations. Back when I was a university student, I used to use FlixBus to get to London because of its affordable fares, modern buses, and a range of onboard amenities. It's a popular choice for budget-conscious travellers seeking comfortable and eco-friendly travel options.
Airport Transfers
45. HolidayTaxis: HolidayTaxis is a globally recognised ground transportation company that has received awards for its excellence. It specialises in offering airport transfer services in more than 21,000 resorts across cities in 150 different countries. They offer a variety of vehicle options for solo and large group sizes, including shuttles, private taxis, and large coaches, ensuring that every traveller's needs are met.
46. Kiwitaxi: is an online booking platform for individual transfer services and private car tours. KiwiTaxi operates in over 100 countries worldwide, with more than 500 airports and 117500 routes, including popular destinations in Europe, Asia, Africa, and the Americas.
47. 12Go:12Go is an online platform that streamlines travel bookings and reservations for a wide range of transportation options throughout Asia. This user-friendly platform empowers travellers to book trains, buses, ferries, flights, and more across multiple Asian countries, simplifying the process of planning and coordinating their trips. The primary objective of 12Go Asia is to offer travellers a convenient and all-encompassing tool for accessing transportation services throughout the Asian region.
You can also book airport transfers on Expedia and Booking.com.
Car Rental
48. Discover Cars: is an Award-winning car rental comparison website (World Travel Awards, Financial Times 1000, Inc. 5000). Customers can find, compare and rent a car globally. – over 10,000 locations worldwide.
49. Rentalcars: The world's biggest online car rental service (present in 160 countries worldwide).
You can also hire car rentals on Gocity and Skyscanner and would recommend comparing rates with all the platforms I've mentioned.
The Best Travel AI Resources To Plan and Book Your Trip
50. GuideGeek: This is like the Chat GPT version of travel. Imagine having your own personal Ai travel assistant where you can ask pretty much any travel-related question to plan your holiday. It works on Whatsapp and it will provide you with quick responses to topics like the best restaurants and bars in a city, hotel and Airbnb recommendations, custom itineraries, safety info and local slang to know plus much more.
51. TravelArrow: is an all-in-one travel assistant that helps you get the best deal on your next vacation. Reveal hidden deals and discounts, save money, and travel better. Travelarrow helps you save on travel from revealing Priceline's hidden saver deals to easily converting your Google Flights search to Kayak, Skyscanner, and much more! TravelArrow runs in the background to help you travel better.
52. PlanMoreTrips: a free service that helps you save money when booking flights, hotels, Airbnbs, cars, or really anything. Just install the free PlanMoreTrips Chrome extension and then you can visit any travel websites like Google Flights, Airbnb, Expedia, etc and they will help you save money on your trip.
Important Things You Need To Plan Your Trip
Travel Insurance
As a frequent traveller who's experienced mishaps and unplanned situations during my travels, I cannot stress the importance of having travel insurance. Travel insurance is absolutely essential when you travel. It's not just important; it's the single most crucial thing you should have in your travel toolkit. The unpredictability of travel means you never really know what could happen, and it's worth noting that most regular health insurance plans don't cover you when you're abroad.
Travel insurance serves as your safety net, covering a wide range of scenarios, from injuries and illnesses to protecting the valuable belongings you bring along on your journey. It's there to shield you from the unexpected, be it accidents, trip cancellations, or any other unforeseen mishaps that might crop up.
53. Safety Wing: Safety Wing is a global travel medical insurance provider that caters to the needs of digital nomads, remote workers, and travellers. Their insurance plans are designed to offer comprehensive coverage for medical expenses, emergency evacuation, and other travel-related issues. Safety Wing's flexible and affordable policies are popular among those who lead a nomadic lifestyle or travel extensively, providing you with peace of mind and protection while on the road.
54. MoneySuperMarket Travel Insurance: is a service provided by MoneySuperMarket, a leading comparison website in the United Kingdom. This platform allows individuals to compare and purchase travel insurance policies from various providers. MoneySuperMarket Travel Insurance assists travellers in finding the most suitable and cost-effective insurance coverage for their trips, helping them make informed decisions to ensure their peace of mind while travelling.
Travel smart tip: Always check the policies and terms and conditions to know exactly what is covered and not in your travel insurance policy.
E-sim
An eSIM, short for "electronic SIM," is a digital SIM card that is embedded within a device, such as a smartphone or tablet, rather than being a physical, removable card. E-sims enable users to switch between mobile carriers and plans without needing a physical SIM card replacement. They offer greater flexibility and convenience for managing mobile connectivity, especially when travelling or when you need to change your cellular plan. E-sims have become increasingly popular in recent years as they simplify the process of connecting to different mobile networks.
55. Airalo: is the world's first eSIM store that solves the pain of high roaming bills by giving travellers access to eSIMs (digital SIM cards). More than one million people are already using Airalo's eSIMs. With eSIMs from Airalo, travellers can download and install a digital data pack for over 200 countries/regions and get connected anywhere in the world as soon as they land.
56. Ajo: If you are travelling on the African continent, Ajo helps you stay conveniently connected when travelling to countries like Ghana and Nigeria. Use 'TRAVELWITHJOYCE' code and get 5% off your data plan with Ajo.
Travel Card To Use Abroad
57. Monzo: Monzo is a digital bank that offers a prepaid debit card and a mobile app that I use for managing finances while abroad. Some of my favourite perks are competitive exchange rates and doesn't charge foreign transaction fees when you make purchases abroad. This can save you money compared to using traditional banks. Monzo's app provides various budgeting tools, such as categorizing expenses and setting spending limits, making it easier to manage your finances on the go. Monzo offers free ATM withdrawals up to £200/month, you can set budgets for your spending and you receive instant messages to track your spending habits.
Conclusion
In conclusion, there are many travel resources available to help you book your trip. From websites for booking flights and accommodations to travel packages and tours, there are options for every type of traveller. By taking advantage of these resources, you can make the travel booking process stress-free and ensure that your trip is a success.
These are just a few of the many travel planning websites that can help you plan your trip with ease and confidence. If you're limited with time or find travel planning stressful, outsource a travel consultant who can help with finding the best deals and help you travel with ease.
What's your favourite travel resource to plan your trip?